South Texas College of Law Houston President and Dean Don Guter Named Among Houston's Most Admired CEOs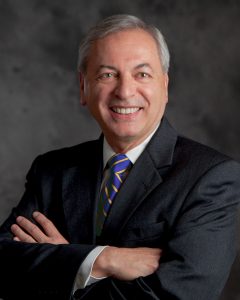 Don Guter, president and dean of South Texas College of Law Houston (STCL Houston), is among Houston's most admired CEOs, according to the Houston Business Journal.
Guter joins 16 other nonprofit leaders and 42 for-profit leaders recognized in this esteemed category for 2019. The Houston Business Journal will host a luncheon Aug. 22 to honor the award winners, and will highlight their success in a special section of the publication's Aug. 23 weekly edition.
Guter is the only leader in the education industry in Houston to receive the award.
In selecting the 2019 CEO honorees, a panel of judges considered characteristics including contribution to company success, civic involvement, and career achievement, among others. The honorees represent several of Houston's prominent industries, with CEOs from major health care systems, development and construction-related firms, financial institutions, energy-related companies and a professional sports team.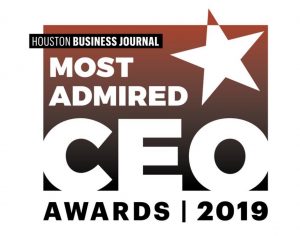 "I am tremendously honored to be recognized as one of Houston's 'Most Admired CEOs,'" said Guter. "Leaders selected for this honor should understand that they accept the award on behalf of the dedicated servants of the organizations they are privileged to lead. I am keenly aware of this truth and always will be grateful for the opportunity I was given by South Texas College of Law Houston."
This year's judges included Dan Snare, president at American Leadership Forum Houston; Tom Rourick, office managing partner of RSM US's Houston branch; Sue Burnett, president and CEO at Burnett Specialists; Darryl Montgomery, president at Wells Fargo Bank; Kenneth Guidry, founding shareholder and director at PKF; and Laura Murillo, president and CEO at the Hispanic Chamber of Commerce.
Guter — currently the 13th longest-serving dean among the nation's 204 American Bar Association-approved law schools — will step down in August after his decade-long tenure at STCL Houston.
Guter's chief accomplishments as the 10th South Texas College of Law Houston president and dean include:
Balancing STCL Houston's budget while cutting the school's debt in half to $6 million and growing the endowment by 70 percent;
Increasing minority enrollment from 31 percent to 45 percent, and increasing the school's national recognition through:

The National Jurist's ranking of STCL Houston as a "Best Value Law School" in 2018; and
PreLaw magazine's ranking of STCL Houston as one of the nation's "Most Diverse" law schools in 2018;

For the first time in the school's 95-year history, earning a U.S. News & World Report ranking for the full-time program (2012, 2013, and 2014) and the part-time program (2018);
Restructuring all departments at STCL Houston — particularly the departments of Financial Aid, Career Resources, Marketing/Communications, and Philanthropy — to better serve the needs of the school;
Renovating and enhancing STCL Houston facilities, including transforming the main entrance into a light-filled expansive atrium with state-of-the-art security services; and
Growing STCL Houston's clinical program from four clinics in a renovated garage space in 2009 to the 19 innovative, specialized clinics of the Randall O. Sorrels Legal Clinics — housed today in a beautifully renovated floor of the law school. Over the past year, approximately 270 South Texas students contributed more than 35,600 hours of direct client service in these clinics — equating to nearly $1.8 million of pro bono legal representation for Houstonians in need.
In his letter recommending Guter for Houston's "Most Admired CEO" award, J. Ken Johnson, chairman of the South Texas College of Law Houston board of directors, noted, "During his 10-year tenure at Houston's oldest law school, Dean Guter has epitomized the hallmarks of a passionate, innovative, authentic, and highly effective leader… He brought a dedication to excellence and an unwavering sense of personal integrity to the top leadership post at STCL Houston. It quickly became clear to me that each decision, each student or faculty interaction, and each priority he addressed arose from this central core of virtue and authenticity."
Before joining STCL Houston as president and dean in 2009, Guter was dean of Duquesne University School of Law from 2005 to 2008. Prior to becoming a law school dean, Guter served in the U.S. Navy for 32 years, retiring in 2002 as a Rear Admiral, Judge Advocate General's Corps (JAGC). He moved through the ranks of the JAG Corps, serving as trial counsel, legislative counsel, and special counsel to the chief of naval operations, ultimately becoming the 37th Judge Advocate General of the Navy (2000-2002).
He served as the CEO for the Vinson Hall Corporation and the executive director of the Navy Marine Coast Guard Residence Foundation (2002-2005). He serves on the council of the ABA Section of Legal Education and Admissions to the Bar.
"I have been honored to work alongside Dean Guter for the past 10 years," said Johnson. "His integrity and humility, which often are rare among CEOs, are staples of his leadership and character. He instills confidence as a dependable leader while maintaining his distinctive humor and wit… Dean Guter has fought hard to ensure that STCL Houston remains an affordable, accessible school of opportunity — a true hallmark of South Texas for nearly a century."
In addition to Guter, some of the other 2019 "Most Admired CEO" honorees in both nonprofit and for-profit categories include:
Joel Cowley, president and CEO, Houston Livestock Show and Rodeo;
Suzan Deison, CEO, Greater Houston Women's Chamber of Commerce;
Michael J. Graff, chairman and CEO, American Air Liquide;
Brian Greene, president and CEO, Houston Food Bank;
William Harris, president and CEO, Space Center Houston;
Megan Marietta, CEO, HCA Houston Healthcare West;
Hong Ogle, president, Bank of America; and
Jamey Rootes, president, Houston Texans.