STCL Houston Students Win International Mediation Tournament, Defeating 49 Teams from Nine Countries
South Texas College of Law Houston (STCL Houston) students recently defeated 49 other law school teams from nine countries – including Poland, Scotland, Ireland, U.K., Canada, U.S., Istanbul, Singapore, and India – to win the 17th Annual International Law School Mediation Tournament in Chicago.
Co-sponsored by the International Academy of Dispute Resolution (INADR) and Loyola University Chicago School of Law's Dispute Resolution Program, the competition brought together more than 400 students, mediators, professors, and attorneys from four continents for four days of international mediation training and competition rounds.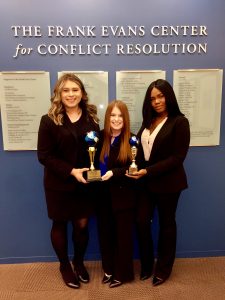 STCL Houston's student team – including Jayelle Lozoya, Ashley Thomas, and Ceci Ubani – competed in five rounds and ultimately claimed first place for best advocate/client team.
At this comprehensive alternative dispute resolution (ADR) tournament, students competed as lawyer, client, and mediator in each round. Seasoned, practicing mediators and attorneys served as judges at the tournament.
Johnathan Trimble, a fellow in STCL Houston's Frank Evans Center for Conflict Resolution, coached the winning South Texas team. "I am thrilled and proud of our students," he said. "This competition requires each participant to play all three roles (mediator, client, and advocate) of a mediated dispute, which takes a tremendous amount of skill and effort. It was my privilege to work with students who are so talented and disciplined."
According to INADR, advocates and clients in this tournament "are judged on their ability to present their case, to articulate their strengths and weaknesses, and to work with the mediators toward a solution while also meeting their needs and interests."
Lozoya, a third-year student at STCL Houston, said, "The INADR competition signaled the last competition for me after three years of advocacy at STCL Houston. To go out as an international champion alongside my two teammates, Ashley and Ceci, was, to say the least, a perfect ending to my law school career. This tournament required not only preparation and dedication, but also forced the team as future lawyers to hone in on what is, in my opinion, the most important skill an advocate can possess: the ability to think quickly on your feet.
"The championship could not have been possible without our coach, Johnathan Trimble, and our program director, Debra Berman's, time, guidance, and above all, trust in their advocates to recognize their own strengths and weaknesses, which brought home another championship. The last piece of advice I leave for any advocate considering ADR is the same that Professor Berman gave to our Mediation class – trust the process, because it works – it worked for me."
Teresa Frisbie, director of Loyola's Dispute Resolution Program, noted, "The wonderful thing about this competition is seeing the world's future lawyers learning to view legal disputes in terms of problem solving. As part of the competition, students learn to communicate productively with decision makers from other cultures, and to generate options for creative solutions that can offer both parties a satisfying outcome beyond what a court or other tribunal might impose."
STCL Houston's ADR teams regularly compete in up to nine events each year – more than any other law school in Texas. The law school's rigorous selection process, dedicated alumni coaches, and the leadership of Berman, director of the Frank Evans Center, have garnered 16 regional, national, and international first-place championships in recent years – four in the last year alone.
The Frank Evans Center serves as the focal point for dispute resolution education at STCL Houston. The Center's primary mission is to train law students in both the theoretical foundations and practical applications of dispute resolution policies and procedures. Currently, STCL Houston offers eight ADR-related courses, including a Mediation Clinic, and a 40-hour basic mediation training, open to both students and professionals. Approximately 125 students obtain the law school's 40-hour mediation certificate each year.