Law Student Overcomes Extreme Obstacles to Graduate in Front of Three Sons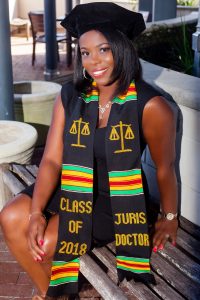 Earning a law degree is a significant accomplishment for any student, but for Shartory Brown – who will graduate Saturday from South Texas College of Law Houston (STCL Houston) – the path to this triumph included conquering childhood homelessness, physical abuse, teenage pregnancy, and single motherhood, among other often debilitating life challenges.
Brown lost her mother to suicide when she was six months old, and can count on one hand the number of times she has seen her father. Raised by her grandmother with a sixth-grade education until Brown turned 13 and ran away from home due to assault in her environment, she became homeless for the first time barely into her teenage years. When she returned home at age 14, her grandmother – who was battling lung cancer at the time – turned her away because she was unable to care for her.
"I stayed with friends. Often I slept on porches," said Brown. "At that young age, I knew that education was my only ticket out of that environment. Even my living arrangement wasn't as important to me as school was."
Brown also lived with family members sporadically throughout her teenage years.
Unable at the time to afford clothes or shoes, she remembers the life-affirming words of her third-grade teacher, Mrs. Willis, who said, "I see greatness in you! Whatever it is that you want to do, hold onto that!" Brown credits this encouragement as her motivation at age 8 to keep going and fight for her education.
Brown notes that she always was the "smartest kid" in her class, and her incredible drive to succeed emerged early in life. She won the President's Award for Educational Excellence – along with a personal invitation from the President of the United States to visit the White House – but was unable to afford the cost of the trip.
As a child, she recalls ducking from bullets that hit a tree near where she and her friends were playing. "I was only 12 years old at the time, but that was the nature of the beast in the projects of Norfolk, Va. where we lived," she said. "Fighting to survive was a way of life for me."
Brown became pregnant at age 17 and was forced to drop out of school. Fortunately, she entered the home of a caring foster mother, Patrice Tiggs, who managed a house for teenage mothers. Brown bonded with her foster sisters – including Nicole Liggins who will attend Brown's law school graduation – and "came out a different, better person."
"I was in foster care while pregnant, but God was with me," she said. To this day, Brown refers to Patrice – who also will attend her graduation – as "Momma," and views her as her actual mother.
Brown entered an independent living program designed to transition teenagers from dependency to independent living. She was placed on bedrest after becoming pregnant with her second child at age 19. Because she was unable to attend school or work, she was disenrolled from the program and kicked out of her apartment. Brown found herself homeless again, this time with a 2-year-old and an infant in her care.
Despite these setbacks, her sons served as her motivation to enter a local women's shelter, return to school, and secure her own home. Shortly afterwards, she married a man who later physically abused her, forcing Brown to flee from the situation. "I didn't want to be a victim again!" she said. "I was fighting not only for myself, but for my young children, and decided to take control."
She graduated with an associate's degree in paralegal studies and attended Norfolk State University in pursuit of a bachelor's degree in sociology and political science. Because of the difficulties of adequate childcare and financial struggles, Brown transferred to Kaplan University, where she earned a bachelor's degree in legal studies.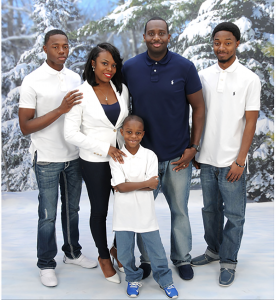 She then met and married her "wonderful husband" Quinnan, a recruiter with the U.S. Coast Guard.
"Law school was very challenging with three sons at home and a husband stationed in Galveston!" Brown said. "My oldest son helped a lot with my youngest son while I was in class and studying for exams."
Her sons DeMarcus, 21, a Houston Community College student; Tyshaun, 19, who recently joined the U.S. Army; and Quinnan Jr., 8, a second-grade student, plan to cheer for their mother at Saturday's commencement ceremony.
While her sons continued to motivate their mother throughout law school, Brown again found that the encouragement of an exceptional teacher makes all the difference.
"If not for [STCL Houston] Professor Shelby Moore, I would have quit!" she said. "I kept telling her that it was too much and I just couldn't make it through law school. But Professor Moore never let me give up. It didn't matter at what time of night I called her crying, her pep talks were amazing. She continually told me to keep my family first, and to know that I would make it. I believe that I have a law degree today because of the sacrifice and support of Professor Moore!"
Brown created a law school group called "The Winner's Circle," when she and five of her fellow students needed additional tutoring in legal writing. Moore met the students each Sunday afternoon on campus to read their work, critique their essays, and hone their writing skills.
Moore will attend graduation and hood Brown in front of her family and friends.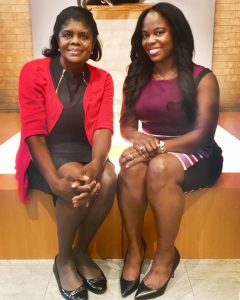 "I was pleased to serve as Shartory's mentor, but she really gets all the credit," said Moore. "She came to us quite strong and prepared to learn. She knew I expected nothing but her best and nothing else would do. Even when laboring under hardships, she gave her best. One can expect nothing less. I am proud of her."
As a law student, Brown interned at the Harris County Attorney's Office in the Child Protective Services (CPS) department. "I remember coming home from work and telling my husband, 'I've found my life's work! I want to devote my career to working with abused children and protecting them from so many things I had to endure,'" she said.
Her goal following graduation is to become a Harris County attorney, facilitating the transfer of children from abusive homes to caring foster homes. She and her husband also plan to expand the nonprofit Brown started as a law student – "Turn Key" – which aims to provide supportive living arrangements for teenage mothers, modeled after the one her "Momma" Patrice once provided to Brown.
"I just want to be able to give back," Brown said. "I'd be happy if I could help even one child and watch him or her blossom. That is success!"