South Texas College of Law Houston Wins Unprecedented 132nd National Advocacy Championship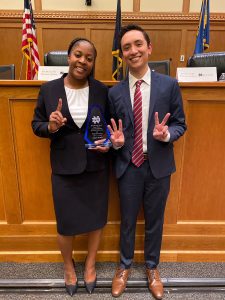 South Texas College of Law Houston (STCL Houston) once again defended its title as the best advocacy law school in the United States with its unprecedented 132nd national advocacy championship at the National Appellate Advocacy Tournament for Religious Freedom at Notre Dame Law School last weekend.
Students Aliyah Davis and Anthony Cruz were named national champions and a second STCL Houston team — composed of students Vincent Bryan and Lacy Trelles — received the semifinalist award.
"I couldn't be prouder of Aliyah and Anthony for their great accomplishment," said T. Gerald Treece, vice president, associate dean, and director of the Advocacy program at STCL Houston for the past 41 years. "These students represent the best of South Texas Advocacy. Their determination and hard work to be the best is what we stand for."
No other law school in the country can claim half as many national advocacy championships.
In fact, this summer, the University of Houston Law Center's Blakely Advocacy Institute ranked STCL Houston's Advocacy program No. 1 in the nation. Notably, STCL Houston is one of only three law schools in the country consistently ranked by U.S. News & World Report in the Top 10 for trial advocacy.
Additionally, preLaw magazine recognized STCL Houston as having the "Best Moot Court of This Decade" in 2016; and STCL Houston students have won the American Bar Association National Appellate Advocacy Championship 15 times, more than any other law school in the United States.
"I feel honored to be a part of South Texas' Advocacy legacy," said Davis. "I could not have accomplished this without the Advocacy community here at STCL Houston… Thank you to Dean Treece for recognizing my potential; Rob Galloway for answering my many questions; my coaches, Zaid and Michael, for smoothing out my rough edges; the guest judges for their time and commitment to the program; my teammates for bouncing ideas off of; and, of course, my partner Anthony for his constant encouragement.
"I am truly blessed, not only to have been on a team, but to win a national championship and serve as a role model for law students like me," she said. "This win reflects STCL Houston's Advocacy success and hopefully will reflect my own successful law career following graduation."
Former top STCL Houston advocates Zaid Husain '14 and Michael Rodriguez '19 coached the winning and semi-finalist teams at the tournament in Notre Dame, Ind.
"What an amazing feeling to see the hard work and long nights pay off in the form of a national championship!" said Husain. "Both teams put in a tremendous amount of work and did everything that we asked of them. I was definitely more nervous than they were during the announcement, but that just goes to show you how much we as alumni and former advocates are invested in the program. That trophy is so beautiful, and it's coming home all the way to Houston, Texas!"
Cruz noted, "I can honestly say I could not have done it without a great teammate like Aliyah who continued to push me — nor could I have done it without the support of our coaches, Zaid and Michael, as well as our other teammates, Lacy and Vincent."