South Texas College of Law Houston Wins Unrivaled 133rd National Advocacy Championship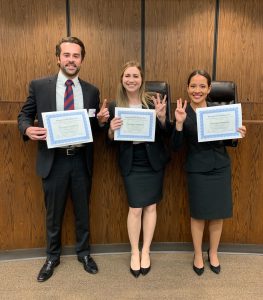 For the second time this month, South Texas College of Law Houston (STCL Houston) students won a prestigious national advocacy championship, bringing the law school's unrivaled national advocacy championship total to 133 — more than any other law school in the country by at least half.
The student team of Marcela Arevalo, Casidy Newcomer, and Clayton Hart remained undefeated throughout the three-day 20thAnnual National Entertainment Law Moot Court Tournament, hosted by Pepperdine University School of Law in Malibu, Calif.
According to the host school, the tournament afforded participating students "the opportunity to argue novel entertainment law issues before some of the best entertainment lawyers in Los Angeles, California."
"Having the opportunity to represent South Texas and win a championship on a national stage was a moment I'll never forget," said Newcomer. "It would not have been possible without the South Texas Advocacy community. The amount of support from fellow advocates and STCL Houston alumni in the weeks leading up to competitions is what makes South Texas different. South Texas Advocacy is not just a program, it's a community."
The STCL Houston students defeated Florida State University College of Law, Mitchell-Hamline School of Law, and Pepperdine in the preliminary rounds prior to besting Cardozo Law School in the semifinal round. The South Texas team defeated students from Texas Tech University School of Law in the finals.
The STCL Houston team also earned the tournament's Best Petitioner's Brief award.
Moot court competitions simulate appellate court proceedings with students working in teams to answer questions directly from a panel of judges.
"I feel very honored to represent South Texas at such a prestigious competition," said Hart. "Mostly, I'm proud of how hard my teammates and coaches worked to accomplish our goal. We entered this tournament to win, and we did. I would like to personally thank our wonderful professors who have instilled in us a fierce commitment to working hard and perfecting our craft. I will forever be proud to have been a student — and a competitor for — South Texas College of Law Houston."
Former top South Texas advocates Ryan Cunningham '17 and Dominique Hinson '14 helped coach the future attorneys to STCL Houston's unprecedented win.
"It takes a lot to put yourself in the position these advocates were in to win our 133rd national championship," said Cunningham. "But when the advocates buy into the process and put in the work, day-in and day-out, this is what happens. Hard work wins championships. We are so proud of these three and what they were able to accomplish out in Malibu."
South Texas College of Law Houston is one of only three law schools in the country consistently ranked in the Top 10 for trial advocacy by U.S. News & World Report. This summer, the University of Houston Law Center's Blakely Advocacy Institute ranked STCL Houston's Advocacy program No. 1 in the nation.
Additionally, preLaw magazine recognized STCL Houston as having the "Best Moot Court of This Decade" in 2016; and South Texas students have won the American Bar Association National Appellate Advocacy Championship 15 times, more than any other law school in the United States.
"I couldn't be prouder of these students who worked so hard to reach this significant milestone — both for themselves and for South Texas College of Law Houston," said Rob Galloway, associate director of Appellate Advocacy at STCL Houston. "Clayton, Casidy, and Marcela — along with their outstanding alumni coaches — continue to represent our 96-year-old law school well on the national advocacy stage."