STCL Houston Law Students Educate Teenagers in Constitutional Literacy
South Texas College of Law Houston (STCL Houston) recently hosted the state's third annual Marshall-Brennan Moot Court Competition, in which high school students from YES Prep West Campus argued a fictional case involving the First and Fourteenth Amendments in courtrooms throughout the law school. This is the only competition of its kind in Texas.
Competition judges, comprised of South Texas faculty, practitioners, judges, students, and alumni, heard the students' arguments and provided them with feedback on ways to improve their cases.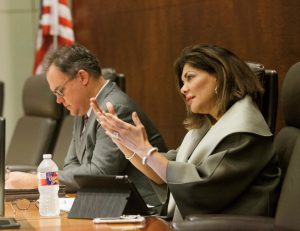 The Honorable Justice Eva Guzman on the Supreme Court of Texas and STCL Houston alumna, and The Honorable Judge Gregg Costa on the U.S. Court of Appeals for the Fifth Circuit, heard the students' arguments, judged the final round, and addressed participants following the competition. The top four competition winners will progress to the national Marshall-Brennan Moot Court Competition in Washington, D.C. in March.
Students Diamond Terry, Isaiah Nduku, Brandon Dormos, and Nazario Moreno will travel to the East Coast in late March to compete against high school teams representing approximately 20 national Marshall-Brennan chapters, including those from Yale Law School, Cornell University Law School, and American University Washington College of Law, where the Marshall-Brennan Constitutional Literacy Program began.
The young students' journey to this national stage began early last fall, when they chose to enroll in a constitutional law and juvenile justice course taught exclusively by STCL Houston students at their high school.
"The importance of teaching young students constitutional literacy is based on the premise that these high school students will forever benefit from understanding the rights and responsibilities they hold under the U.S. Constitution," said Sharon Finegan, professor of law at STCL Houston. "Marry that with the belief that law students are an untapped resource whose own skills can be developed by teaching others within their community, and you have an incredible opportunity for all involved."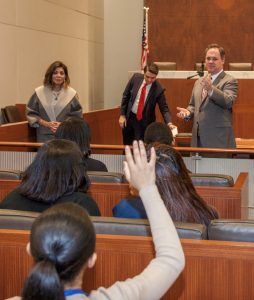 The Marshall-Brennan Constitutional Law Clinic – part of the Randall O. Sorrels Legal Clinics at STCL Houston – is designed to tap into those law student resources and develop students' knowledge about constitutional law principles, while simultaneously teaching high school students about their constitutional rights, civil rights, and responsibilities.
According to Finegan, who established Texas' first – and only – Marshall-Brennan chapter at STCL Houston in 2015, eight law students were chosen out of a pool of 15 applicants based on their experience, enthusiasm, and dedication to making the significant time commitment required to serve as Marshall-Brennan teaching fellows.
"This clinic has been one of my favorite experiences that I've had in law school," said Kyle Ludovice, second-year law student and Marshall-Brennan teaching fellow at STCL Houston. "This clinic gave me the opportunity to teach high school students the fundamentals of our Constitution. I sincerely wish I had been exposed to these materials in high school, as I might have figured out that I wanted to go to law school earlier in my life."
Further mining the resources of the legal community, the clinic was created in partnership with Tommer Yoked, a former Teach for America participant and associate at the Sidley Austin law firm in Houston. Sidley Austin sponsored the program and purchased all textbooks for the high school students.
Beginning last August, South Texas students attended Finegan's and Yoked's weekly constitutional law seminar, where they learned key principles and developed pedagogical skills. The teaching fellows then divided into two teams, which each taught the high schoolers twice a week.
Participating South Texas students – including Niloufar Hafizi, Kourtney Johnson, Natalia Leon, Jose Leyva, Kyle Ludovice, David Mares, Ross Miller, and Sarah Riffel – gained a mastery of constitutional law while also honing their problem-solving, public-speaking, communication, and organizational skills.
The high school students equally benefitted from the Marshall-Brennan Constitutional Literacy program.
"This experience truly was a once-in-a-lifetime opportunity," said Diamond Terry, a junior at YES Prep West Campus. "For me to do this and actually win first place as the best advocate meant a lot to me because I want to pursue law as a profession. The feeling of winning is still surreal to me and I thank everyone who helped to make this happen for me. I can't wait to go to the national competition!"