South Texas College of Law Houston Wins Unrivaled 131st National Advocacy Championship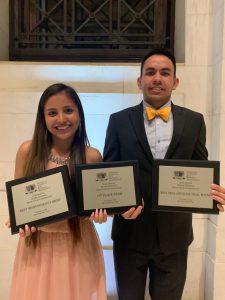 South Texas College of Law Houston (STCL Houston) again defended its title as the best advocacy law school in the United States with its 131st national advocacy championship at the 11th annual National Latina/o Law Student Association (NLLSA) Moot Court Competition, hosted by Cardozo Law School in New York City earlier this month.
Students Erandy Marquez and Javier Perez earned the title of "Best Team" and swept every major award at the competition, replicating the success of South Texas students Cesar Escalante and Jonathan Peña who won the same national championship last year. Perez also claimed the "Best Individual Advocate" award and the duo earned the "Best Respondent Brief" award.
"It was an honor to represent South Texas College of Law Houston at the NLLSA Moot Court Competition this year," said Perez. "Our exceptional advocacy program fosters an unmatched learning experience that has allowed me to excel inside the classroom and courtroom. Our secret to success was simply working harder than every other team. I hope to continue working with this amazing group next semester and add to the legacy of South Texas Advocacy."
Marquez noted, "It has been a privilege to represent South Texas as an advocate for its esteemed Advocacy program. Our national title victory at the NLLSA Moot Court Competition is the greatest milestone in my law school career. Being part of South Texas' enduring legacy is an honor. I am grateful for the opportunity, experience, and mentorship from my coaches."
No other law school in the country can claim half as many national advocacy championships.
In fact, this summer, the University of Houston Law Center's Blakely Advocacy Institute ranked STCL Houston's Advocacy program No. 1 in the nation. Notably, U.S. News & World Report ranked STCL Houston among the "Top Ten for Trial Advocacy" in its law school rankings released earlier this year, and preLaw magazine named South Texas "Best Moot Court of This Decade" in 2016.
Moot court competitions simulate appellate court proceedings with students working in teams to answer questions directly from a panel of judges.
"As always, I couldn't be prouder of these hardworking, talented, and skilled advocates who brought home South Texas' unprecedented 131st national advocacy title," said T. Gerald Treece, vice president, associate dean, and director of the Advocacy program at STCL Houston for the past 40 years. "Thanks to their focused dedication — and that of their devoted alumni coaches — we kicked off our 2018 advocacy season on a high note. And we've only just begun!"
Treece and Rob Galloway '91, assistant director of Advocacy at STCL Houston, coached the winning team, along with South Texas alumni and former top advocates Ryan Cantu '13 and Alex Gonzalez '12. Both Cantu and Gonzalez also coached the law school's winning team at the 2017 NLLSA Moot Court Competition.
"I coach because I truly enjoy being able to train and develop young law students," Gonzalez told the Houston Chronicle after last year's win. "It's an incredibly satisfying feeling. I think coaching a winning team is even more satisfying than winning a national title yourself."
NLLSA focuses on advancing academic success and commitment to community service among Hispanic law students. The competition is held annually as part of the organization's fall national convention.
Other STCL Houston Advocacy news
While Marquez and Perez competed in New York, another STCL Houston team — including students William Haacker and John Wooldridge — earned the "Best Respondent Brief" award and a semi-finalist ranking at the Leroy R. Hassell National Constitutional Law Moot Court Competition in Virginia Beach, Va. South Texas students Meredith Clark, David Dorris, and Sandra Guillen also claimed the "Best Petitioner Brief" award in this competition. Treece, Galloway, and former STCL Houston top advocates Kyrie Cameron Wallace '15 and Dominique Hinson '14 coached these students.
Also recently, South Texas advocates Alyssa Salinas, Ted Seago, Lacy Trelles, and Layne Walker took semi-finalist honors among 24 teams at the 3rd Annual Mockingbird Challenge National Trial Competition, hosted by Faulkner University in Montgomery, Ala. Former STCL Houston top advocates Craig Priesmeyer '15 and Morgan Bird '18 coached this team of second-year advocates.