South Texas College of Law Houston Welcomes Nearly 300 for 2019 Alumni Weekend
Nearly 300 alumni and friends of South Texas College of Law Houston (STCL Houston) gathered at the law school last weekend to reconnect, support the law school, and celebrate the investiture of STCL Houston's 11th president and dean, Michael F. Barry.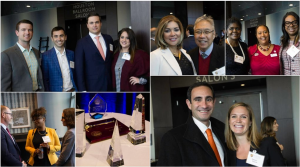 Alumni Weekend — honoring the classes of 2014, 2009, 2004, 1999, 1994, 1989, 1984, 1979, 1974, and 1969 — began with the Alumni Association's Annual Meeting and Luncheon, held at the Marriott Marquis in downtown Houston. Brant J. Stogner '06, immediate past president of the STCL Houston Alumni Association, welcomed attendees and shared an overview of the weekend's activities. He introduced Barry, who provided alumni with a high-level assessment of the law school's strengths, opportunities, and projected areas of growth over the coming year.
The luncheon also recognized the school's 2019 award honorees — including Aimee Maldonado '04, recipient of the Public Service Award; Lindsey C. Moorhead '11, recipient of the Young Alumni Award; and J. Ken Johnson Jr. '86, recipient of the Distinguished Alumni Award.
Maldonado is a public interest attorney in the Immigration Clinic, one of 23 specialized Randall O. Sorrels Legal Clinics at the law school. Since she joined the Clinics in 2015, Maldonado has significantly expanded the Clinics' partner network, broadening the services available to indigent clients. As an educator, she stresses the value and impact of pro bono work, and exemplifies servant leadership through the extensive time she commits to pro bono representation, community volunteering and outreach efforts, and a commitment to influencing change at the federal level through her advocacy efforts in immigration.
Moorhead is a partner at Jackson Walker, practicing in the environmental section. During her time at STCL Houston, she was a member of Law Review, serving as editor-in-chief during her third year. As a graduate, she is an active volunteer and leader with roles on both the Alumni Association board of directors and the Young Alumni Council. She is active in several professional and community organizations, including the American Bar Association, Houston Bar Association, Houston Young Lawyers Association, and the Houston Livestock Show and Rodeo.
Johnson, of counsel with Martin |Walton law firm, has more than 20 years of experience handling complex, multi-party litigation. He has successfully managed large commercial, intellectual property, toxic tort, and environmental cases on a national basis. Following graduation, Johnson taught trial skills as an adjunct professor, trained mock trial and negotiation teams for more than 15 years, and served as the president of the Alumni Association. He has served as chairman of the board of directors at STCL Houston since 2014, leading the law school through several transitions, including the recent dean search and hiring.
Following the 2019 Annual Meeting and Luncheon, attendees traveled to the law school for Barry's official investiture ceremony. During the event, John Worley — vice president and associate dean of Academic Affairs — provided salutations on behalf of the faculty. Johnson presided over Barry's oath and investiture and presented Barry with the school's official presidential medallion. Randall O. Sorrels — alumnus and current president of the State Bar of Texas — and Benny Agosto Jr. — alumnus and current president of the Houston Bar Association — spoke on behalf of alumni and the profession in welcoming Barry. Student Bar Association President Erin Jensen addressed attendees on behalf of the student body, and Bill Ford — an STCL Houston alumnus — congratulated Barry, his friend and former colleague at USAA.
Alumni also attended a continuing legal education event during the weekend, and enjoyed a social event at Karbach Brewery.
STCL Houston's 2020 Alumni Weekend is scheduled for October 2020.