Diversity Summit at STCL Houston Draws Nearly 200 Community Leaders, Inspires Interactive Discussion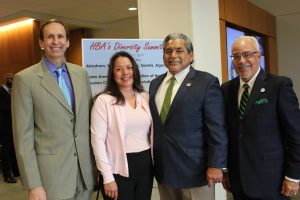 Nearly 200 attorneys, diversity officers, and business leaders gathered recently at South Texas College of Law Houston (STCL Houston) for an interactive discussion on key diversity issues.
Among other topics, attendees and panelists discussed implicit bias, understanding the gender spectrum, the business side of diversity and inclusion, the importance of allyship, hiring and retaining a diverse workforce, and changing roles in parental responsibility.
Benny Agosto Jr. '95 — Houston Bar Association (HBA) president, partner at Abraham, Watkins, Nichols, Sorrels, Agosto & Aziz, and STCL Houston alumnus — organized the Diversity Summit, the first of its kind for the organization. He established the event to celebrate the HBA's history of inclusion and outreach and to offer an educational program for attorneys and non-attorneys on topics related to diversity and inclusion in the legal profession.
In addition to the HBA, event sponsors included Abraham, Watkins, Nichols, Sorrels, Agosto & Aziz; the Asian American Bar Association of Houston; the Houston Chapter of the Association of Legal Administrators; the Hon. Kyle Carter; the HBAA Charitable Fund Inc.; the Law Offices of Seth Kretzer, the Mexican American Bar Association of Houston; and STCL Houston.
The Hon. Mike Engelhart, the Hon. Kristen B. Hawkins, the Hon. Maria T. Jackson, the Hon. Daryl Moore, and Jason's Deli co-sponsored a networking happy hour following the Diversity Summit.