Black Law Students Association at STCL Houston Hosts "Discover Law Day" for Underrepresented Students from Yates High School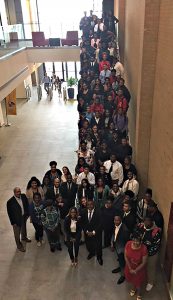 Approximately 100 underrepresented students from Yates High School experienced "A Day in the Life of a Law Student" recently at South Texas College of Law Houston's (STCL Houston) "Discover Law Day," hosted by the school's Black Law Students Association (BLSA) chapter and sponsored by the Law School Admissions Council (LSAC).
BLSA members at STCL Houston – in collaboration with the school's Admissions Office – treated the high school students to a full day of mentoring, networking, class simulations, a mock trial presentation, and a panel discussion with practicing Houston attorneys.
The law school organized Discover Law Day to inform students from ethnically and racially diverse backgrounds about the importance of higher education, the steps they can take while in high school to achieve future education goals, and the opportunities afforded to law school graduates. Event organizers also encouraged the students to visit LSAC'S website – www.discoverlaw.org – to learn about special resources for minority students considering law school.
"Many young students lack knowledge about higher education in general, including how certain courses or college majors can best prepare them for their ultimate career aspirations," said Alicia Cramer, assistant dean of Admissions at STCL Houston. "With key support from LSAC, our BLSA students encouraged the teenagers – many of whom would be the first in their families to attend a university – that college and law school is an excellent and promising route for their futures. With that mindset, the students then can take appropriate steps to build their resume for success when applying for college and advanced degrees."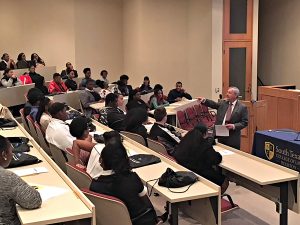 STCL Houston President and Dean Don Guter welcomed the visiting students to campus and shared highlights of his own journey to law school and his career as the 37th Judge Advocate General of the U.S. Navy.
He told the students that – while growing up with his grandparents who were immigrants of little means – he could not have imagined that higher education and service to his country as the Navy's highest legal officer were possible for his future. Guter emphasized education as the catalyst to propel the students to achieve their life and career goals. He also underscored the great importance of diversity in the nation's law schools and the legal profession.
Christopher Knight, Yates High School band director, helped to organize Discover Law Day 2018 for his students and applauded the "eye-opening event to create the next generation of community advocates."
After a "meet and greet" session with BLSA members, the students divided into two groups to experience an interactive, simulation law school class taught by STCL Houston Professors Helen Jenkins and Tobin Sparling. Following the class, the students took advantage of the opportunity to ask the professors questions about law school and the field of law.
The students then watched the BLSA mock trial team practice their oral arguments in an actual courtroom at the law school.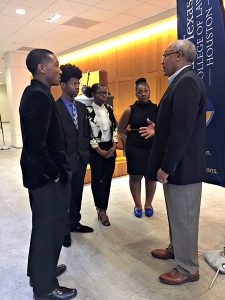 Following a one-on-one lunch with BLSA mentors and visiting law school alumni, the students learned from a panel of seasoned attorneys about the varied roles of lawyers in the community. The panelists took questions from the students and echoed the dean's encouragement to continue their education.
"I think it is critical for young high school students considering college to realize that – as minorities – they can achieve great career success in fields other than sports or music," said Symone White, second-year student and president of BLSA at STCL Houston. "As the first in my family to graduate from college, much less law school in the near future, I understand how intimidating these goals can be. My message to these students was to be confident enough to make big goals, assertive enough to learn how to reach them, and persistent enough to never give up on their dreams."
The students concluded Discover Law Day with a tour of STCL Houston – Houston's 95-year-old institution in the heart of downtown.
In addition to Cramer and White, Nicole Tarrence, assistant director of admissions, and Antigone Olivares, data and records coordinator in the Admissions office, were instrumental in organizing Discover Law Day 2018 at the law school.
"I'd like to thank South Texas College of Law Houston for allowing us to learn about the school of law," said Zachary Steward, a student at Yates High School. "I really enjoyed today and it opened my eyes to opportunities that I didn't know existed. What really piqued my interest was the mock trial – I appreciated that segment of the day."