Marc Eichenbaum '08 helps guide Houston's homeless through a pandemic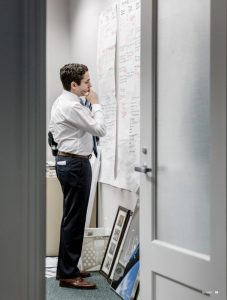 Social distancing can be a source of disruption, anxiety, and restlessness — even for those with comfortable, safe living situations. For those experiencing homelessness, a global pandemic presents an even broader range of challenges.
South Texas alumnus Marc Eichenbaum '08 is Mayor Sylvester Turner's special assistant for homeless initiatives. In this role, he manages the city's response to homelessness and helps coordinate a coalition of more than 100 partner organizations throughout the greater Houston area.
Aside from seniors, the homeless are the most at-risk population in a pandemic. Most are either living in the streets without sanitation supplies or residing in densely populated congregate-living facilities, and nearly all of them have underlying and often untreated health conditions.
Eichenbaum and his team have taken swift and creative action to support this vulnerable population, including:
Redirecting more than 100 individuals to ancillary shelters to make room for shelter residents to safely practice social distancing;
Developing a transportation hotline in conjunction with METRO and Yellow Cab to transfer shelter residents to and from testing sites and quarantine/isolation facilities;
Creating a COVID-19 medical response team comprised of healthcare professionals who have experience serving the unique needs of homeless individuals;
Installing 20 handwashing stations in high-traffic public areas throughout the city; and
Distributing personal protective equipment, including masks and hand sanitizer, to area shelters
In addition to serving those currently experiencing homelessness, Eichenbaum and his colleagues are exploring ways to support individuals experiencing housing insecurity — and planning for the likelihood that economic trends will lead to a new wave of constituents facing homelessness.
In a 2019 survey conducted by the Kinder Institute for Urban Research, 39 percent of Harris County participants said they did not have enough savings to respond to a $400 emergency.  That reality, combined with unprecedented unemployment rates in Texas, could create a dire situation for many Houstonians.
"Now that we have a system in place for our current homeless population, we are assessing available state and federal funding that we could access to meet the region's other pressing needs, namely preventing people from becoming homeless or housing insecure due to the financial impact of COVID-19," Eichenbaum said. "We have learned from other emergency situations like Hurricane Harvey that the most critical response comes in the fallout. We want to be prepared to provide the support Houstonians need."