From Battlebots to the COVID-19 Battle, Houston Law Student Finds Creative Way to Give Back
When South Texas College of Law Houston (STCL Houston) student Jessica Livsey and her fiancé, Paul Ogin, bought their first 3D printer, they looked forward to creating plastic combat robots — known as Battlebots — to compete as a family in national tournaments. Little did they know their hobby would later protect individuals on the front lines of the national coronavirus (COVID-19) battle.
Confined to their home with two children — 8-year-old Izzy and 6-year-old Jerry — they realized an opportunity to join this public health fight, use tools within their own house, and teach their children about serving others in the process.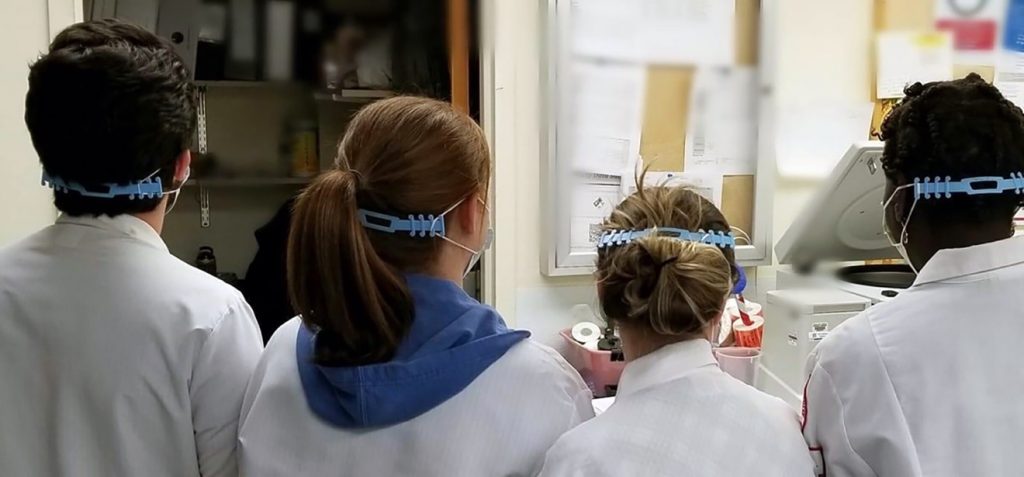 Livsey saw a social media post about a Canadian family who repurposed their 3D printer to create plastic ear guards — worn across the back of the head as an anchor for face masks — thereby eliminating common ear pain resulting from conventional use of the masks. After showing Ogin, they knew that their family's three 3D printers could be put to similar use.
Ogin took the Canadian family's original design and created his own version using Computer Aided Design (CAD) for faster production. With this update, their family can print eight ear guards in three hours, as opposed to the six hours it once took to print seven.
To date, the family has received over 1,200 orders and printed and donated more than 700 ear guards to front line workers across the country. They have received so many orders that the family invested in a fourth 3D printer to meet the higher demand. Their growing list of ear guard recipients includes healthcare workers at hospitals in Austin and Tennessee, nurses at assisted living facilities in Florida, correctional officers in the couple's home state of Pennsylvania, and doctors in Philadelphia, California, and Michigan, among others. Livsey also hands out ear guards to cashiers at Walgreens and Kroger, and Ogin, who works for Amazon, distributes them to his colleagues in the company's local Fulfillment Center.
"We've been overwhelmed and humbled by the hundreds of orders we receive each week," said Jessica. "Our printers are working nonstop — I wake up every four hours of the night to start another batch so we can keep up with the demand!"
Livsey and Ogin refuse to charge recipients for the ear guards and insist that the many positive emails and photos they continue to receive from healthcare workers across the nation are all the thanks they need.
"One great thing I've learned during my time at STCL Houston is what a family-centered, community-driven environment we have at the law school," said Jessica. "We stick together, help each other, and support one another through the good and the bad. It has been a joy for us to serve our wider community in similar ways as — together — we fight this widespread pandemic."
The family continues to accept orders for their custom ear guards at no cost. Individuals interested in obtaining ear guards for themselves or others in need are encouraged to send an email to pauls3dprints@gmail.com to place an order.
Jessica, a part-time student at Houston's oldest law school and a legal intern in the Litigation department of the Harris County Attorney's Office, and her family are an inspiration to others as they demonstrate what it means to be #STCLTogetherApart.