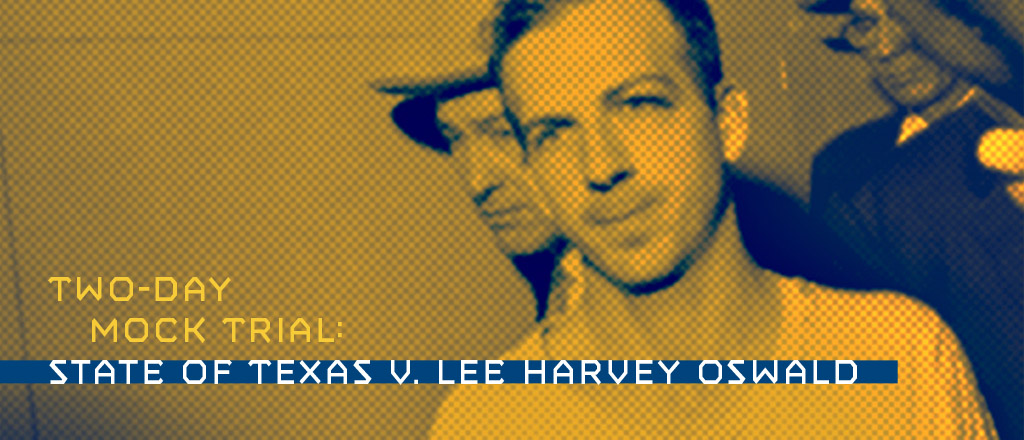 The courtroom drama that never had a chance to occur will now be held live . . .
featuring world-renowned J.F.K. assassination experts.
Fans of history and courtroom drama will be treated to an insightful and entertaining mock trial, in which a Harris County judge, prosecutors, and defense attorneys try the landmark case: State of Texas v. Lee Harvey Oswald using 21st century techniques in front of Harris County jurors.
Co-sponsored by South Texas College of Law Houston and Citizens Against Political Assassinations (CAPA), the two-day event will include the delivery of opening and rebuttal statements, the presentation and cross-examination of medical and legal experts, an evaluation of constitutional rights in 1963 and today, and a Q&A with participants and jurors following the verdict.
CLE credits:  Attendees earn 10 CLE credits, including 3 ethics CLE credits
WHEN: Thursday, Nov. 16 and Friday, Nov. 17
9 a.m. – 5 p.m.
WHERE: South Texas College of Law Houston
Garrett-Townes Auditorium
1303 San Jacinto Street, Houston, TX 77002
REGISTRATION: Attendees must register by Nov. 10;
after Nov. 10, a late fee of $25 will be charged.
As seating is limited, early registration is encouraged.
Day-of registration permitted on-site, pending space availability, with a late fee of $25.
COST: CLE Students (10 Credits) | $450 (includes lunch)
General Public | $150 (includes lunch)
CAPA members | $100 (includes lunch)
Live Streaming, general public | $75
——————————————————-
Reception and Banquet with Alec Baldwin
"Why the JFK Assassination Remains Important"
Thursday, Nov. 16
The Sam Houston Hotel
1117 Prairie Street, Houston, TX 77002
The registration for the mock trial does not include the cost for the dinner.
Cost: $125 includes valet parking
Business casual dress; cash bar
6:00 – 7:00 p.m. Book Signing/Reception
7:00 – 8:30 p.m. Dinner and presentation by Alec Baldwin
Mock Trial Participants:
Judge:
• The Honorable Jay T. Karahan '83, presiding judge, Harris County Criminal Court at Law, No. 8; and STCL Houston alumnus
Prosecuting Attorney:
• Gus E. Pappas, '88, partner, Dabney & Pappas; and STCL Houston alumnus
Defense Counsel:
• Robert K. Tanenbaum, trial attorney, novelist, and former mayor of Beverly Hills, Calif.; former deputy chief counsel for the House Select Committee on Assassinations.
• Lawrence P. Schnapf, Schnapf LLC; CAPA board member; New York-based environmental attorney; adjunct professor, New York Law School.
• Bill Simpich, San Francisco-based civil rights attorney; author of "State Secret: Wiretapping in Mexico City, Double Agents, and the Framing of Lee Oswald."
Expert Witnesses:
• Robert N. McClelland, M.D., member of the team of surgeons who worked to save President John F. Kennedy's life at Parkland Hospital in Dallas on Nov. 22, 1963; professor emeritus, University of Texas Southwestern Medical Center.
• Cyril H. Wecht, M.D., J.D., chair of CAPA; one of the nation's leading forensic pathologists; former president, American Academy of Forensic Science and American College of Legal Medicine; member, Forensic Pathology Panel of the House Select Committee on Assassination.
• Gary Aguilar, M.D., member, CAPA board of advisors; one of only a handful of non-government physicians allowed privileged access by the Kennedy family to J.F.K.'s still-restricted medical and autopsy evidence housed at the National Archives; and ophthalmologist.
• Lucien C. Haag, former Criminalist and Technical Director of the Phoenix Crime Laboratory [1965-1982] with more than 47 years of experience in the field of criminalistics and forensic firearm examinations. President of Forensic Science Services, Inc.
• David W. Mantik, M.D., Ph.D., leading expert on the medical evidence in the J.F.K. assassination; Palm Desert, Calif.-based radiation oncologist.
• Clifford Spiegelman, Ph.D., distinguished professor of statistics at Texas A&M University, and author of over 100 scientific publications. Author of the award-winning paper recognized by the American Statistical Association, "Chemical and Forensic Analysis of JFK Assassination Bullet Lots: Is a Second Shooter Possible?"
• Donald B. Thomas, Ph.D., prolific author, "The Acoustical Evidence in the Kennedy Assassination Revisited" and more than 100 scientific journal articles, book chapters and books.