STCL Houston Library Employee Finds Blessings Amid COVID-19 Battle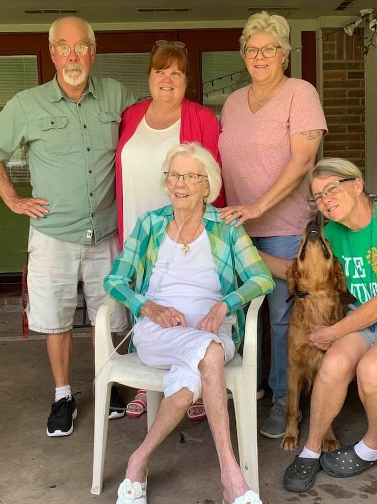 Laura Edstrom, collections coordinator in the Fred Parks Law Library at South Texas College of Law Houston, is skilled at helping students access key library resources. The coronavirus (COVID-19) pandemic has revealed another of her admirable skills: finding blessings among the many challenges of this unprecedented experience.
Edstrom's positive outlook is especially impressive given the arduous health journey she has taken with her 91-year-old mother, Joan, in the past two months.
Laura and her mother have shared a home for 18 years since Laura's daughter, Stefanie, left for college. During that time, Joan and Laura have become partners, taking care of each other. Despite quadruple bypass surgery 30 years ago and a history of high blood pressure, chronic obstructive pulmonary disease (COPD), and atrial fibrillation, Joan has remained active.
In mid-February, Joan fell and broke her leg, necessitating a partial hip replacement the following day. Since that time, she has spent weeks in and out of hospitals and rehabilitation centers as she recuperates from her accident. Laura has been with her every step of the way. Due to the pandemic, the last rehabilitation center locked down with very little notice and Laura became a sudden "permanent guest" in order to continue to support and care for Joan.
"I am so grateful to be a part of the STCL Houston family during this trying time," said Laura. "Having the freedom to work from home while still caring for my mother has been a tremendous blessing. It has been my silver lining to this whole pandemic! I can't imagine having to leave my elderly mother when she needs me most, and thanks to STCL Houston, I've never left her side."
Laura's South Texas family continues to support her while she, in turn, supports Joan. Laura's colleague, Monica Ortale — associate director of public services in the Fred Parks Law Library — delivered a laptop computer to Joan's rehab facility so Laura could continue to support students while working remotely.
"During the hardest times, I encouraged my mother to pretend we were on a cruise and quarantined to our room!" said Laura. "Even though cabin fever began to set in, it would have been 100 times worse if we had been apart and I couldn't help her."
Joan is now home with Laura and the roles are reversed: the daughter finally is able to repay the mother for so many years of care and love. And they are not alone — Laura also is caring for her dog, Star, who gave birth to seven puppies during the COVID-19 pandemic!