Black Law Students Association at South Texas College of Law Houston Named "Large Chapter of the Year" by National Organization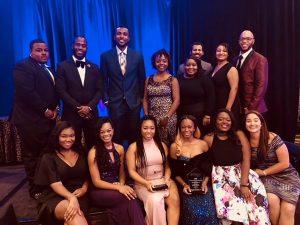 The Southwest region of the National Black Law Students Association (SWBLSA) recognized the Black Law Students Association (BLSA) at South Texas College of Law Houston as "Large Chapter of the Year" among 17 other chapters in the region – including Texas, Arkansas, Louisiana, and Oklahoma – at the organization's annual convention held recently in Dallas.
Also notably, SWBLSA recognized South Texas BLSA President Symone White as "Chapter President of the Year" for the region, and inducted her into its regional Hall of Fame as a result of her successful efforts to increase membership from previous years and her active participation in regional events.
"My fellow South Texas BLSA members and I were greatly honored to be named 'Large Chapter of the Year' by SWBLSA – especially among the other 17 excellent chapters in the Southwest region," said White. "And personally, I am grateful and excited to take on the role of president, to represent the Southwest region in the coming year. I look forward to the significant achievements I know our regional chapters will make as, together, we work to promote the educational, political, and social needs of black law students."
The convention coincided with the 2018 Thurgood Marshall Mock Trial Competition, at which STCL Houston students and BLSA members Antwonique Gilmer, Ashleigh Nwanguma, Markia Bordeaux, and Chester Uzoma earned a semifinal ranking for the law school. The South Texas team defeated the University of North Texas School of Law to progress to the semifinals.
South Texas College of Law Houston established its Black Law Students Association in 1983. Since its founding, chapter members actively have sponsored a variety of speakers, academic support activities, and social events – including co-hosting the National Black Law Students Association annual meeting in 1987. The STCL Houston BLSA chapter assists in recruiting minority students and speaks on behalf of its members to the administration, faculty, and student body.