STCL Houston Professor Donates Classic Mercedes Benz to Benefit Law School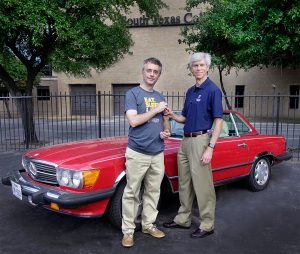 Professor Christopher Kulander, Ph.D. — director of South Texas College of Law Houston's Harry L. Reed Oil & Gas Law Institute and car aficionado — has put his money where his mouth is.
And he is encouraging the Houston legal community to follow in his tracks.
Kulander recently donated his 1987 Mercedes Benz 560SL Roadster to the law school to benefit the Institute, which equips students with the analytical and practice skills necessary to launch successful careers with energy law firms, oil and gas corporations, land companies, and regulatory agencies.
"With the granting of my tenure earlier this year and the successful establishment of the Harry L. Reed Oil & Gas Law Institute, I am going to be asking energy companies and law firms for money and support," he said. "I can think of no better way to demonstrate my belief in the future success of the Institute than to lead by example. I have a dog in this fight."
In addition to effectively preparing energy lawyers for practice, the Institute seeks to remain responsive to the practical needs of law firms and energy companies in Houston — known as the energy capital of the Western Hemisphere. Now home to more than 5,000 energy firms and the world's largest concentration of refineries and petrochemical plants, the Houston region is unrivaled in its understanding of and its ability to provide unparalleled leadership in the oil and gas industry. Since 1923, STCL Houston has grown with the city's energy industry and educated leaders in energy law for decades.
"The goal of the Harry L. Reed Oil & Gas Law Institute is to be the premier oil and gas law school — not only in Texas, and not only in the U.S., but in the world," said Kulander. "South Texas College of Law Houston is unsurpassed in North America when it comes to its oil and gas law curriculum. STCL Houston students who focus on this area are fully equipped at graduation to enter the competitive energy industry and make immediate contributions to the field — whether working in-house with energy companies or for law firms with energy practices."
Those interested in making donations to STCL Houston's Harry L. Reed Oil & Gas Law Institute are encouraged to contact the school's Philanthropy Department at 713-646-1801. To learn more about the Institute, please visit www.stcl.edu/academics/oil-gas-institute.