South Texas College of Law Houston Takes First and Second Place at the Jeffry S. Abrams National Mediator Competition
Students from the Frank Evans Center for Conflict Resolution at South Texas College of Law Houston (STCL Houston) recently won first and second place at the Jeffry S. Abrams National Mediator Competition at the University of Houston.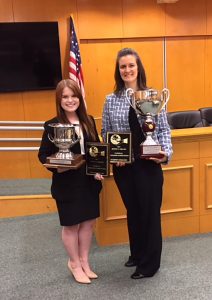 Third-year student Mildred Scott won first place, and third-year student Ashley Thomas won second place at the competition.
This is the third first-place win for STCL Houston students in the four years the law school has competed in this tournament.
"Representing the law school at the Abrams National Mediator Competition was an incredible experience," said Scott. "I have always been drawn to dispute resolution and being able to work with clients to find common ground and resolve an issue where previously they did not see a clear path. The ADR program at South Texas and the coaching and preparation for this competition have helped me develop my skills in this area tremendously. My mediation training with Dean Alfini and the coaching and guidance given by Kristyn Koch and Debra Berman gave me the confidence to believe that a win was possible. This experience helped me solidify the path I want to pursue as an attorney and advocate."
This event drew competitors from law schools around the country for five rounds of mediation problems. In each round, judges evaluated students on their effectiveness in facilitating negotiation, active listening, and other communication skills.
As in past alternative dispute resolution (ADR) competitions, South Texas College of Law Houston alumni played key roles in coaching current students for this mediation challenge. In particular, alumna Kristyn Koch '14 coached both of these winning students. Currently a contract coordinator at Shell, this is the third time that Koch has coached students to a first place win at this national competition.
"Competing as a mediator is a fantastic experience for law school students," said Koch. "It takes a great advocate to be a good mediator. You have to know how to frame offers, questions, and perspectives in a way that is palatable to each individual party. Our competitors spent weeks fine-tuning their skills so that they were prepared for every scenario. It was my privilege to work with students who are so talented and disciplined."
STCL Houston's ADR teams regularly compete in up to nine events each year – more than any other law school in Texas. The law school's rigorous selection process, dedicated alumni coaches, and the leadership of Debra Berman, director of the school's Frank Evans Center for Conflict Resolution, have garnered 13 national and international first-place championships in recent years – three in the last year alone.
"We are grateful that our students had the opportunity at the competition to practice the skill set they studied in their mediation classes," said Berman. "The communication skills they developed are vital to any legal career path."
The Frank Evans Center for Conflict Resolution serves as the focal point for dispute resolution education at STCL Houston. The Center's primary mission is to train law students in both the theoretical foundations and practical applications of dispute resolution policies and procedures. Currently, STCL Houston offers eight ADR-related courses, including a Mediation Clinic, and a 40-hour basic mediation training, open to both students and professionals. Approximately 125 students obtain the law school's 40-hour mediation certificate each year.