Harris County DA and Alumna Kim Ogg '86 Imparts Wisdom to STCL Houston Graduates at 2018 Commencement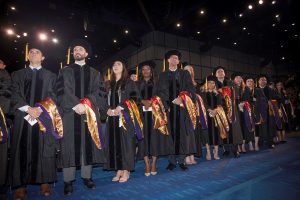 More than 200 newly minted attorneys accepted their South Texas College of Law Houston (STCL Houston) diplomas at the law school's May 2018 commencement ceremony on Saturday.
In front of approximately 1,500 friends and family members, the new alumni celebrated their shared accomplishment at the George R. Brown Convention Center, followed by a reception at the Hilton Americas-Houston hotel in downtown just blocks from their alma mater.
Donald J. Guter, retired rear admiral, JAGC, USN – president and dean of STCL Houston and 37th judge advocate general of the U.S. Navy – presided over the ceremony and provided the law school's welcome, applauding the honorees' hard work and integrity, and noting that the faculty are "confident that… as South Texas graduates, [they] will enter the world's noblest profession well-prepared to make a positive difference in people's lives."
Valedictorian and student speaker Sean Alan Koch addressed his fellow graduates at the ceremony and commended their hard work and tenacity in earning a law degree. "We have not only learned the law these past three years, we have learned how to practice law, build both personal and professional relationships, and do it with the highest integrity. I am proud, and know you are too, to be part of the class of 2018 from South Texas," he said.
The students and guests then enjoyed an inspiring commencement address by Harris County District Attorney and STCL Houston alumna Kim Ogg '86. During the first six months of her administration, Ogg successfully advanced major drug policy and bail reform, diversified the leadership of the DA's Office, and effected legislative reform on behalf of crime victims. She previously served as a chief felony prosecutor for the DA's Office and leader of Houston's first Anti-Gang Task Force. She also served as executive director of Crime Stoppers.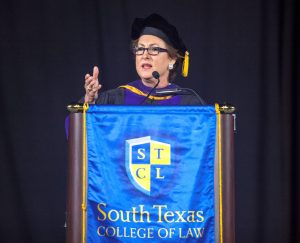 Ogg shared with the students that, when she attended her own law school graduation, "I didn't understand how the law is ultimately the search for the truth in every situation, and it's the decisions you make in the small, quiet moments that come to define your character. I couldn't see as I sat in the chair you sit in today that it's those decisions we make that define us – not just as lawyers – but as human beings."
She concluded her commencement address noting, "You have the ability to change the balance of power – the future of our country – the arc of history. The power to build your case is a superpower. And every second counts."
John J. Worley, associate dean, vice president, and professor of law, provided the official "presentation of graduates." Professors Josh Blackman, Ted L. Field, Helen Bishop Jenkins, Joseph K. Leahy, Shelby Moore, Jean Fleming Powers, Val D. Ricks, and Kevin M. Yamamoto served as faculty hood-masters.
Several members of the South Texas College of Law Houston board of directors participated in the event, including Larry Baillargeon '74, Elizabeth Campbell, Stewart Gagnon '74, Michael Hays '74, Jon Paul Hoelscher '05, Nick Lanza '89, Imogen "Immy" Papadopoulos '84, Gordon Quan '77, and Randy Sorrels '87.