South Texas College of Law Houston Named a "2017 Great College to Work For" by The Chronicle of Higher Education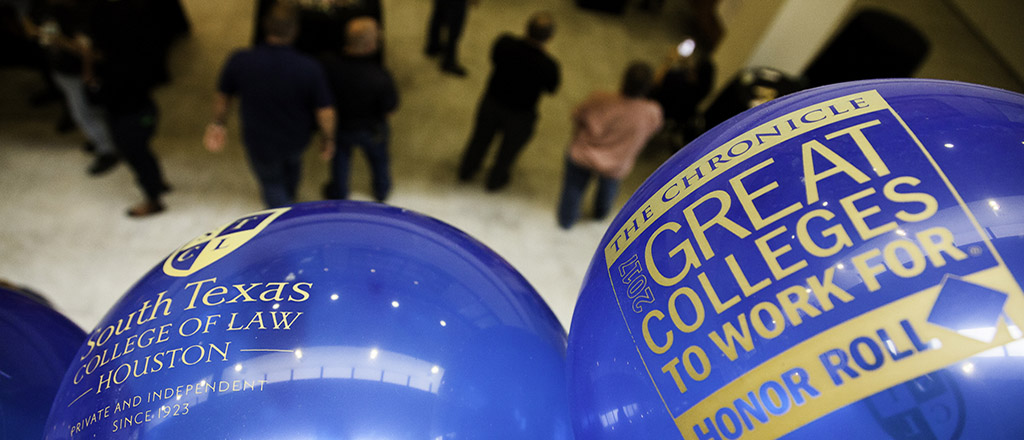 HOUSTON (July 19, 2017) – South Texas College of Law Houston is a great college to work for, according to a new survey by The Chronicle of Higher Education, a top trade publication for colleges and universities.
The results, released this week in The Chronicle's tenth annual report on The Academic Workplace, are based on a survey of 232 colleges and universities.
Only 79 of the institutions that applied for the program achieved the "2017 Great College to Work For" recognition. Results are reported for small, medium, and large institutions, with South Texas College of Law Houston included among the small universities with 2,999 students or fewer.
To thank South Texas faculty and staff members, the law school administration hosted a day-long celebration on campus, complete with carnival-style activities, including a Velcro wall, large Jenga games, corn hole toss, horseshoe toss, chair massages, and a variety of catered appetizers. More than 100 employees participated in the festivities.
STCL Houston won honors in 10 out of 12 categories this year: Compensation and Benefits; Confidence in Senior Leadership; Facilities, Workspace & Security; Job Satisfaction; Professional/Career Development Programs; Respect and Appreciation; Supervisor/Department Chair Relationship; Teaching Environment; Tenure Clarity & Process; and Work/Life Balance.
South Texas College of Law Houston also received the publication's distinct Honor Roll designation – among only 42 institutions in the country, and 10 in the small universities grouping – based on the number of categories in which the law school was recognized.
In 2012, the last year the law school participated in the survey, The Chronicle recognized STCL Houston in four categories.
"Our faculty and staff are the foundation of the law school's 94-year legacy of excellence in legal education," said Donald J. Guter, president and dean of South Texas College of Law Houston. "They are the reason multiple generations of families choose South Texas as their law school home – and continue to serve the school as mentors and supporters long after graduation. It is gratifying for me to know that our employees also feel at home on our campus, as indicated by their satisfaction in so many segments of this important survey."
"Ten years in, the Great Colleges to Work For distinction is well-known by academic jobseekers as a sign that an institution's employees are valued and given opportunities for growth even when they face financial constraints," said Liz McMillen, editor of The Chronicle. "Any college or university that's on the list is showing that they emphasize one of their most valuable assets: their faculty and staff."
The survey results are based on a two-part assessment process: an institutional audit that captured demographics and workplace policies, and a survey administered to faculty, administrators, and professional support staff. The primary factor in deciding whether an institution received recognition was the employee feedback.
To administer the survey and analyze the results, The Chronicle worked with ModernThink LLC, a strategic human capital consulting firm that has conducted numerous "Best Places to Work" programs, surveying hundreds of thousands of employees nationwide.
"It's easier to be a great workplace during good times, but it's when times are tough that the commitment to workplace quality really gets tested," said Richard K. Boyer, principal and managing partner of ModernThink LLC. "And those institutions that measure up during times of economic hardship reinforce their already strong cultures and put even more distance between them and their peer institutions for whom they compete for talent."
Great Colleges to Work For is one of the largest and most comprehensive workplace studies in higher education. For more information and to view all the results of the survey, visit The Chronicle's website at https://goo.gl/N6RWDM.