Your Gift Makes a Difference to Adilia Miranda '19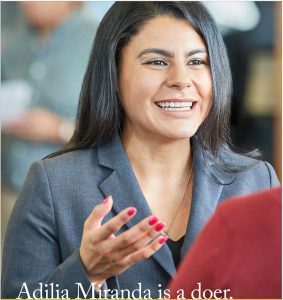 In addition to being an STCL Houston student and associate editor for the Business Law Review, she is also a wife, mother, and full-time U.S. Customs and Border Protection officer. 
Her day-to-day schedule requires a lot of balancing, but she is dedicated to her studies and to building a better life for her daughter, Idina. Earning ascholarship has helped her take more courses during intersessions, so she can graduate in less time and minimize her student debt. 
"With determination, focus, and the support I've received at STCL Houston, my dreams are becoming a reality," she says. "I can see the finish line."
Your gift to STCL Houston helps hardworking students transform passion into purpose. 
Students at South Texas College of Law Houston come from diverse places and backgrounds. From recent college graduates to professionals pursuing a second career, they are working toward the same goal: a practical legal education that will prepare them to serve their communities. 
Your gift makes a difference to students like Adilia, their families, and the communities they serve.