Veterans Clinic Staff address wide range of issues to help service members back on their feet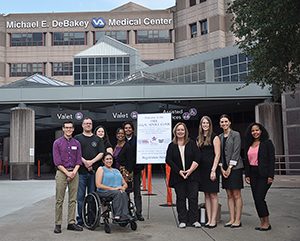 Staff attorneys and students in South Texas College of Law Houston's Veterans Clinic visit the DeBakey Veterans Affairs Medical Center every Friday afternoon to provide expertise on veteran-specific legal issues in the hospital's legal clinic, organized by Houston Volunteer Lawyers.
The following stories represent the many issues addressed in a single afternoon at DeBakey's legal clinic.
Edgar* – Edgar is an 87-year-old WWII combat veteran living by himself in a dilapidated property on the outskirts of Houston. He has little contact with family. Two of his brothers died in WWII, others died of old age in recent years, and Edgar's children have minimal contact with him.
Edgar, whose failing health makes property maintenance difficult, has received several fines and ultimatums from city entities. However, he hopes to preserve the property so he can leave it to his children in his estate plan. When he came into the clinic, he expressed concern about an old IRS lien on the property and whether he had legitimate property rights, since he purchased the home decades ago with his ex-spouse.
STCLH staff provided advice and counsel on all these issues – separating the issues into those that could affect Edgar's ability to continue living in the property and those that would impair his ability to leave the property to his children. The case was marked for further action on a records search for Edgar's divorce decree and the IRS lien on the property, as well as a referral for social services to help Edgar manage his affairs. Edgar was also told that he would be a good candidate for Aid and Attendance benefits to help pay for assistance with his property.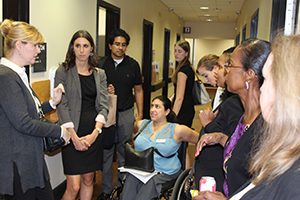 STCLH staff asked that the case be referred to the clinical programs, since  our organizational expertise in family law, estate planning, tax, and veterans benefits can cover all of Edgar's needs.
Matthew* – Matthew is an Operation Iraqi Freedom veteran who drove trucks in the military. After an honorable discharge, he lived in Belize with his wife and children for a few years while planning the family's future. They returned to the U.S. when a trucking company that promised to pay for his certification recruited Matthew and offered a generous compensation rate. Unfortunately, from day one of the certification program, the trucking company broke every promise they made to Matthew and eventually said he owed them thousands of dollars.
STCLH staff advised Matthew on his options for fighting the alleged debt and reporting fraud on the G.I. Bill. They also educated Matthew on the importance of being vigilant when signing contracts – he succumbed to pressures to sign contracts that negated the company's earlier promises. Clinic staff gathered the essential facts about the alleged debt, including the remaining balance, the collecting agency, and the specific violations of the Texas Deceptive Trade Practices Act and the Fair Debt Collection Practices Act.
Matthew's case was marked for continued representation. Houston Volunteer Lawyers will assign the case to a volunteer attorney in the Houston area.
Steven* – Steven is a Houston native and Navy veteran. His brother recently passed away, and Steven is concerned about how to get his brother's children onto the deed of the house where they still live.
We interviewed Steven about the history of the house and discovered that a much larger title issue exists. Steven's parents originally purchased the house, but they died intestate and no one had executed the probate on the estate. Thus, Steven's nieces and nephews are actually the second generation with a title problem.
We provided advice and counsel on how the house would have passed through intestate succession. Steven was alarmed to hear that all 13 of his siblings and or their surviving children could have a partial ownership interest in the house, but he was optimistic that the family could work together to resolve the title issue.
The case was marked for continued representation in probate court.
*We have changed client names to protect confidentiality.