Advocacy competitors learn new skills in remote environment
Just weeks before the 2020 Judge John R. Brown Admiralty Moot Court Competition (JJRBAMCC) was scheduled to take place in Portland, Maine— and after months of training and preparation on the part of the student competitors — schools, cities, and other institutions began to restrict travel in response to the COVID-19 pandemic.
Recognizing a unique learning opportunity for the 23 participating teams, the competition's organizers at the University of Texas made the decision to conduct the competition in the first week of April using a remote format.
"In the real world, courts are also being affected by coronavirus," said Sarah Crockett, director of the JJRBAMCC, in a statement to students and coaches. "Many more hearings are now being conducted electronically. Although this year's Competition will not test all the skills that are a part of traditional oral advocacy, the ability to make a persuasive argument remotely is also an important skill in today's world."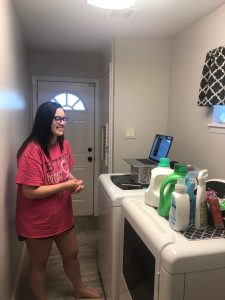 South Texas 3L students Kendra Watson and Jack Peters comprised one of the two teams that represented the law school in the virtual tournament. The new format added some new considerations to their practice routine.
"In addition to rehearsing at odd hours to accommodate new schedules, we had to prepare for new scenarios: avoiding disruptions from our pets, testing cameras and Wi-Fi speeds, practicing making eye contact with the camera — things like that," Watson said.
To avoid distractions, judges asked that advocates film their rounds against a plain, white background. Watson went through the competition in the only suitable place she could find in her apartment — the laundry room — with her laptop stacked on boxes of canned seltzer water to raise it to eye level.
While the team did not bring home a trophy this time, they learned some valuable lessons.
"Despite the unusual circumstances, preparing for the tournament turned out to be a productive distraction from the stress and anxiety of everything else that was going on," Watson shared. "It gave me a sense of normalcy and something to look forward to during those first few weeks of social distancing. And it's sure to make for some interesting stories to tell in hiring interviews!"