1L Ascends from Tire Bay to Boardroom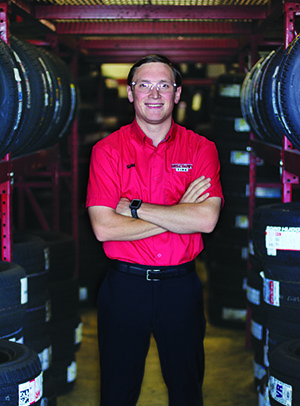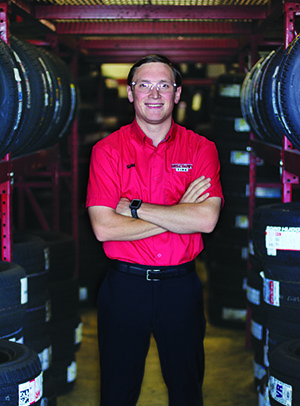 South Texas College of Law Houston is many students' first-choice law school for several reasons: practice-ready training, the winningest Advocacy program in the nation, and a robust, hands-on clinical program, to name a few.
Those school hallmarks draw students to its doors. But the strongest factor keeping them at Houston's oldest law school is more personal than academic: its near-tangible "family" environment.
Sam Perez thrives in a loyal, friendly atmosphere — both in the classroom as a part-time student and in the tire bay as a full-time employee at Discount Tire.
Perez first joined the company in 2012 as an 18-year-old freshman at Lone Star College. When he transferred to the University of Houston, where he later earned a bachelor's degree in political science, he continued his day job changing tires and attended classes following his work day.
As a college graduate, he remained with the company, earning a promotion to assistant manager in 2016, before enrolling at STCL Houston the following year.
"Discount Tire is a such a family-focused, humble company," he said. "From my first day on the job, I felt a part of the brotherhood/sisterhood, if you will. My bosses were flexible and helped me work around my college courses. The company even gives $1,000 a year to its employees to encourage their education."
While Perez joined Discount Tire as an entry-level tire technician, he was in excellent company.
Discount Tire's founder — the beloved Bruce T. Halle, who passed away in January — launched his company in 1960 with one employee — himself. That meant that, in addition to serving as salesperson, accountant, and business prospector, he also assumed the roles of shop mechanic, cleaning crew, sign painter, and customer service representative. According to the company's website, "Over the years, Halle built the largest and most recognized tire store in the country, but he never lost sight of his early years in the bay as a tire technician."
Along the way, Halle adopted key governing principles for the business that he instilled in his employees — and which the company still espouses today. Upon Halle's death, Discount Tire Vice Chairman Gary Van Brunt noted in a company press release, "The five lessons that Mr. Halle taught us will forever resonate in our hearts and minds: be honest; work hard; have fun; be grateful; and pay it forward."
It is the fifth tenet that Perez looks most forward to achieving, based on his clear mastery of the fourth. "Discount Tire has done so much for my family over the years," he said. "It is my turn to give back to them, and I really want to help them out now."
It appears Perez may get his wish.
Michael Zuieback, CEO of Discount Tire and stepson of its founder, recently visited the store where Perez works to learn about its record-breaking sales figures.
Richard Wheeless, the company's vice president of operations in Houston, knew Perez's history with the company and his status as a law student, and he encouraged him to share this background with Zuieback during his scheduled visit.
Perez followed his advice, prompting the CEO to ask him, "Would you consider becoming in-house counsel for Discount Tire when you earn your law degree?"
Perez assured him of his interest in the job.
Zuieback replied, "I prefer to promote from within. We would love to have you on our legal team, Sam."
Humbled and excited at the prospect, Perez, a 1L at the time, later doubted the experience. "Maybe he was just being nice!" he thought.
Shortly afterwards, however, Perez learned that Zuieback returned to the company's headquarters in Arizona and told its board of directors about "an inspiring young man" he met in Houston. "He works all day for Discount Tire, and then he attends law school at night."
The CEO told his general counsel, "When Sam Perez earns his law degree, I personally will serve as his reference for our legal team."
In the meantime, Perez plans to follow Halle's advice by working hard for the company and pursuing his lifelong dream of becoming an attorney.
"Having eight years of experience with Discount Tire (when I graduate from law school), I would be thrilled at the opportunity of merging my operational knowledge of the company with my legal expertise," said Perez. "I really would have fun doing that."